Fancy an exotic Thassos tour experience?
We got you covered!
With Potos Tours, you will enjoy a tour experience that is specifically tailored for you. Our goal is to immerse you in the beauty of Thassos and to show you a side to it that you hardly ever see. With our unique offerings, from visits to ancient Thassos to a Jeep Safari sailing and an island tour, you are guaranteed.
What There Is to Know About Thassos
Thassos is widely known for its rich history that spans thousands of years and its overall beauty, from the clear waters to the sandy beaches. If you are into Greek Mythology, Thassos is also known to be the home of Staphylus, the son of wine god Dionysus and Ariadne.

You could describe Thassos as a time capsule. This is because you can find unique landmarks that date back to 600 BC and others that date back to the Roman Empire. You can visit Ancient Agora, which is home to the remains of the ancient town of Thassos, or even the Monastery of Archangel Michael, where you will marvel at the incredible architecture and the view of the waters beyond.
There are a lot of things you can do in Thassos and guess what? You can enjoy all that, and more, with Potos Tours.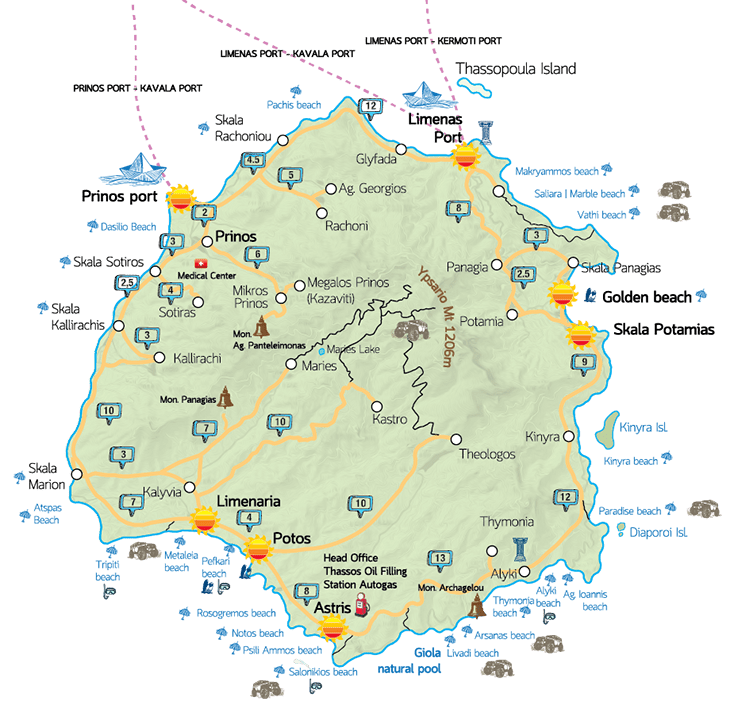 Thassos Tour Map
Why Potos Tours?
Unique Experiences
Affordable Prices
Experienced Tour Guides
Established local agency in Thassos since 1988
Thassos Specialist in Excursions and daily tours
At Potos Tours, we understand the ins and outs of Thassos. As such, we can curate a unique experience for you, one unlike any other offered on the Island. The goal with our Thassos tours is to have you entertained and informed regarding the history of the Island and its people, the significance of the Island from Greek mythology, and Greek economy standpoints.
Best value for money deals
On top of that, we have curated our services to be accessible to anyone and everyone at any given price point. You can get a simple Island tour or a full-on Jeep Safari. The Jeep Safari will involve driving from the Kastro settlement to the highest peak of the Island, Ypsarion Mountain, where you will enjoy 360-degree views of the Island, from Mount Athos to Golden Beach, Kavala, Samothraki as well as the Island of Lemnos.

Potos Tours understands the value of affordable travel, so we aim to give you the most value for your money on our Thassos tours. We want you to leave with nothing but memories, knowing that you had the experience of a lifetime and having something that you will remember for the rest of your life.
Trust the guides who know the island
Our tour guides are some of the best-trained on the Island. A vast majority of them were born and raised on the Island, meaning that they have a firm understanding of the Island's history, they know their way around the Island, and, most importantly, they know some hidden gems that not many people know about. As such, you can be assured to have a unique experience, one that is specifically tailored for you and one that you cannot get anywhere else. It is our gift as Potos Tours to you, and we take a lot of pride in the team that we currently have.

You will also be happy to note that all of our tour guides are licensed. They will walk you through various sites, such as the archeological museum in Limenas or even Archangel Michael's monastery. You are guaranteed to learn a lot from them and enjoy their company throughout your trip.
Sailing in Thassos Tour
Our excursions are not solely limited to land. We have sailing trips unlike any other. You will get to see another side of Thassos from the comfort of a luxury yacht. It is a luxury experience that you will remember for the rest of your life. We do this to go against the norm.
At Potos Tours, we will show you what many are not willing to show you. We will give you an experience that many are not ready or even willing to offer it to you. We value you, and we want nothing but the best for you while you come to visit Thassos.